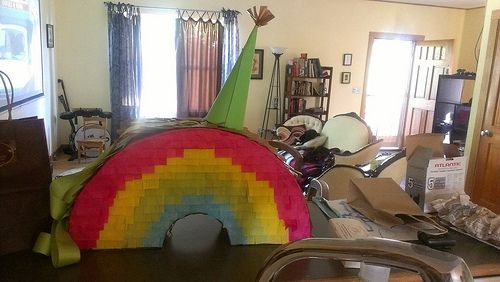 or send is an email
As a bankruptcy paralegal, one of my of my primary tasks is to go over a client's budget. How much money you spend can make all the difference between qualifying for Chapter 7 bankruptcy or a Chapter 13 bankruptcy.  I also like to help educate our clients in proper budgeting techniques to help them avoid financial problems in the future.
I recent came across this fun article about doing a birthday on a budget.  The author discusses how birthday parties have evolved into crazy and expensive productions. When I was young, a birthday party consisted of cake and punch, a with a few simple games like Toss Across and tag, and birthday presents for the birthday girl or boy.  Today, everyone is special at the birthday, everyone is treated to an experience of some sort and everyone gets a "goody bag" to bring home.  The author ends her story by describing as fabulously creative birthday party for her daughter that cost a total of $3.19.
I used to be "that mom" that would buy an expensive cake or spend $100 on a "bouncy house" that no one ended up using.  Over time though, I looked for creative and less expensive ways to celebrate my daughter's birthday.  Sleepovers and crafts became a very popular option, a Costco or homemade cake was great, and only once did I have a child ask where the goody bags were!
There are always ways to save money without missing much.  I've managed to cut down grocery shopping to once every two weeks.  I shop at Costco and know when their coupons come out so that I only buy that item when there's a coupon.  I mark consumables like laundry detergent, shampoo and Ziploc bags with goal dates to make them last to so that we are always working to extend the life of what we buy.  All these little things and more add up to a lot of savings which comes in handy when you suddenly need to deal with something like a car repair.
If you've had enough of the over-the-top birthday party mentality and would like to talk with us about getting rid of debt so that you can start living on a real budget that puts you back on top of your finances, call us at (619) 448-2129 or email me at Lisa.Starrett@chs-Law.com and we can talk about ways that bankruptcy can give you a new start and a chance to bring your budget back to something that works for you.
Image credit:  Dan Ox