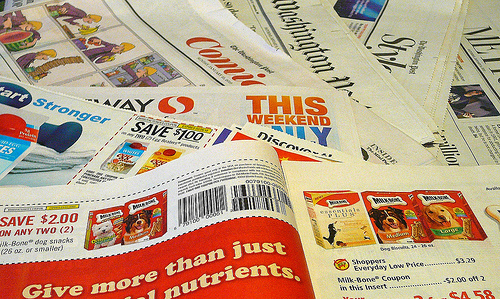 Never leave home with your coupons!  I recently started watching the show Extreme Couponing on The Learning Channel.  The show follows people who obsessively clip coupons that save as much as 95% or more on their grocery bills.  Some of these extreme couponers are very obsessive about collecting and using coupons.  While I don't think "Extreme Couponing" is realistic and it's not something I want to do, I do have to admit that the show prompted me to get back into coupons and inspired me to write this blog entry.
Why? Because those quick stops to pick up something are budget busters.  While I plan a good weekly grocery list and stick to it, there's always that item I need to pick up on the way home – someone signed up to bring drinks to a school event, someone didn't tell me that we were almost out of a box of cereal…you know the drill.
If you don't have your coupons with you, you'll lose out on savings and that quick unplanned trip cost you $30. Instead feeling slightly taken at the store from your quick trip, keep an organizer with your coupons in it in the car. This way, you'll never be without savings.  Need drinks for a sports event?  Great, check in the beverage section of your coupon organizer.
Need a box of cereal? Great, pull out the coupon for buy 3 get 1 free. (Now you won't run out for quite a while.)  You won't always have a coupon for everything, but you'll feel good that you did everything you could to save and that's always a good feeling!  On a recent shopping trip, I was able to save over $60 on a grocery bill of $160.  You can save a lot more than you may think.
Image credit:  krossbow