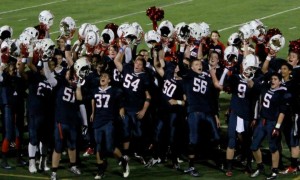 This is part of an ongoing going series about eating better by avoiding fast food during September and setting aside money under a forced savings plan.  Click here to read the introduction and click here to read other stories in the series.  Lisa and I will be sharing our experiences and what we learn during this experiment.
Savings:  $6 transferred to savings, as planned.
Breakfast:  A bowl of Raisin Bran.  I had to change things up a little bit and didn't feel like making eggs.  Lisa's mom is still in the hospital and I haven't seen her in a couple of days, but you need to take care of family.
Lunch:  PB&J and a pear.  I had forgotten to make my lunch the night before and I had a 7:00 a.m. meeting at the office.  It was cheap and available.  I'm a creature of habit, so sometimes I will eat the same thing for lunch over and over again.  It was healthier and cheaper that a burger and fries.
Dinner:   Like most Friday nights in the fall, I went to watch the football game of my daughter's high school team.  Getting a burger at the game was really tempting, but I opted for leftovers.  That beef tortilla casserole that my mom made the other day was easy to reheat and it was good.  And the Christian High Patriots beat the Santana High Sultans 42-0.
Exercise:  I opted for the football game and it was still in the 90s and humid.  I'll do some cardio in the morning instead.
So far, skipping the fast food has been easier that I thought it would be.  However, my wife does most of the planning and shopping and she gets all the credit.  We're  headed into the second weekend without fast food and I may need to get creative…or go to the store.
Image credit:  Borrowed from the Facebook page of the Christian High Patriots.