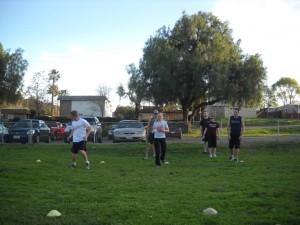 This is part of an ongoing going series about eating better by avoiding fast food during September and setting aside money under a forced savings plan.  Click here to read the introduction and click here to read other stories in the series.  Lisa and I will be sharing our experiences and what we learn during this experiment.
Savings:  $20 transferred to savings, as planned.
Breakfast:  An egg and sausage sandwich at Starbucks.  It was Friday and the traditional father-daughter breakfast I have with Michelle at the end of the week.
Lunch:  A Costco polish dog and a nonfat yogurt.  This time, my excuse was having lunch with Michelle and getting gas for the two trucks.
Dinner:  A big plate of good food at Stir Fresh Mongolian Grill.  This was the first time in about 2 or 3 weeks that our schedules had permitted all of us to sit down for a meal together due to Lisa's mom being in the hospital.  We also had a gift card.
Exercise:  After about 45 minutes of full body and cardio, I was spent.  I will be sore.
In about another week, Lisa's mom should be well enough to come home.  Which will be nice, because the temptation to go out for fast food increases on weekend nights when she isn't around.
Image credit:  Condor Fitness