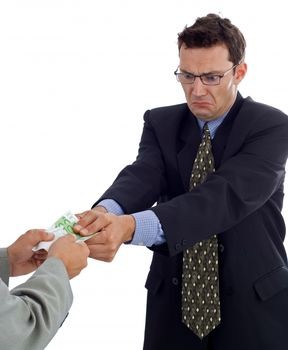 Sometimes a client waits to see me until after a creditor has obtained a judgment and is having money taken out of the client's paycheck.  Although I always want to file a bankruptcy before a client receives notice of a wage garnishment, it may be possible to get some of the money back after the bankruptcy case is filed.  Laws that help bankruptcy trustees recover property for creditors can also be used to help the debtor.
When someone files a Chapter 7 bankruptcy, the court appoints a trustee to sell off your assets that are beyond the maximum that you can protect from you creditors.  However, the trustee can also sue to recover wage garnishments and bank levies made right before bankruptcy and redistribute that money equally to the other creditors.  This is called a voidable preference.  In some cases, the debtors can uss those same laws to get the money back.
In order for a debtor to recover garnished wages, the debtor must prove that:  (1) the transfer was involuntary; (2) the debtor can exempt the property recovered; and (3) the trustee does not attempt to avoid the transfer.  Proving the first and third elements are easy.  A wage garnishment is never voluntary and the trustee will usually file a report with the court that says whether he or she intends to pursue recovery of the garnished wages.  Proving that the wages are exempt is relatively straight forward as well.
When filing bankruptcy, debtors are entitled to claim exemptions.  That's the fancy lawyer way of saying that you get to keep it.  If the money had been sitting in your bank account instead of taken from your paycheck, could you claim it as exempt and keep it?  If so, you can sue the creditor to get the money back.
Now here comes the tricky part.  You are limited to recovering the wages garnished in the 90 days prior to the bankruptcy filing.  You must also file a lawsuit against the garnishing creditor in bankruptcy court called an adversary proceeding in order to get the money back.  The legal fees could be significant, so it might not be worth pursuing unless the attorney is willing to work on a contingent fee basis.
If you are considering filing for bankruptcy and have an active wage garnishment going on, make sure you mention this to your attorney.  If you are in Southern California and would desire a free consultation, please call me at (619) 448-2129.