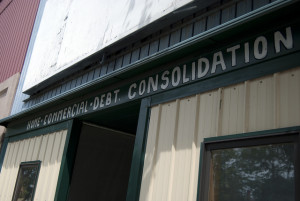 In recent weeks, a lender based in California called LoanMe started flooding local radio stations with advertisements for debt consolidation loans. LoanMe offers unsecured personal loans up to $100,000 and unsecured business loan up to $250,000. Their commercials usually portray a house wife or business owner stressing over credit card debt, offering the appealing simplicity of a single monthly payment. However, I recently had the opportunity to review the fine print of a LoanMe contract and the loan terms were not as beneficial as their commercials imply.
A potential client struggling with debt sent me a copy of a LoanMe proposal for my feedback. The loan amount was over $44,000, but it also included a loan origination fee of $7800. The interest rate on the loan was 12.9%, but the up front costs meant that the actual annual percentage rate was closer to 16%. The monthly payments were going to be more than $650 for 15 years.  That's only marginally better than a credit card.
In a Chapter 13 bankruptcy, for a slightly higher payment than $650, the debtor could pay off the the entire $44,000 in 5 years without paying interest to the creditors. The debtor might even be eligible for Chapter 7 bankruptcy, which would mean no monthly payments and being free of debt in under 4 months.
Most of my Chapter 13 clients end up paying back only a small fraction of the amount borrowed and usually for less than the minimum monthly payments they are currently making. You can click here for another article I wrote about how Chapter 13 is superior to debt consolidation.
If you are in Southern California and are struggling with debt, please call us an (619) 448-2129 to learn about how you can get a free consultation on your possible bankruptcy matter.
Image credit: Jayson Shenk