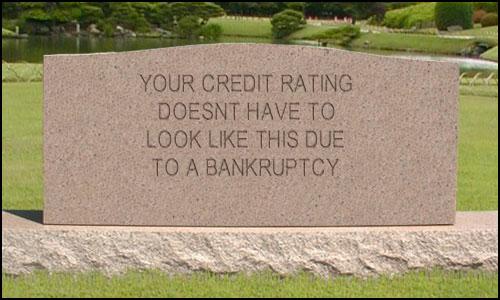 I find that people with large amounts of debt are often too obsessed with their credit score. Your credit score will not buy your groceries and I doubt that companies such as General Motors, Texaco or United Airlines gave much thought to their respective credit ratings when they filed for bankruptcy. Nonetheless, your credit history can be important for some transactions such as renting an apartment or buying a car.
Many of my clients already have bad credit and find that bankruptcy helps improve their credit score by removing debt and stopping the bad payment history.  After bankruptcy, many of my clients receive advertisements from lenders offering car loans or credit cards.  However, the best way to reestablish your credit is to stick to a budget so that you do not get into a financial bind again.  Here are some more tips:
Open up a checking and savings account.  Lenders will wonder how you will manage paying your bills and handle your money responsibly without bank accounts.  As my colleague Jay Fleischman recently observed, living life without bank accounts is both costly and inconvenient.
Apply for a department store or gas credit card.  These cards usually have small limits and can help you restore your credit.  However, you must have the discipline to set aside the money to pay the bill each month.  My wife suggests using an "envelope system" for budgeting to set aside money to pay your bills.
Apply for a secured credit card.  If you borrow money for short periods of time and pay it back, this will reflect positively on your credit report.  There is no risk to the creditor because you deposit money into a bank account or a CD as collateral for the credit card.
Pay your current bills on time.  You MUST pay your utility bills and rent on time for at least a year to help rebuild your credit.
Get a cosigner.  If possible, find a friend or relative to cosign for you on a loan and pay it on time.
Look for lenders who specialize in post-bankruptcy financing.  With the proper research, look for car dealers and mortgage brokers who claim to be "bankruptcy friendly".  Buy a used car on credit so you do not get hit with the depreciation that occurs during the first two years of a new car purchase.
Avoid payday loans.  Most payday loans have high interest rates and are a bad credit trap.
Dispute debts on your credit report.  Once you receive your discharge, your creditors should remove the amount owed from your credit report.  If they don't, you may have a claim for damages under the Fair Credit Reporting Act.
Live within your means.  Your payments on consumer debt should equal no more than 20% of your expendable income after costs for housing and a vehicle.
Pay your reaffirmed, pre-bankruptcy debts on time.  Having a bankruptcy on your credit and a poor payment history on new debt will greatly harm your credit.
If you are in Southern California and want to discuss your bankruptcy options, please call me at (619) 448-2129 to set up an appointment.