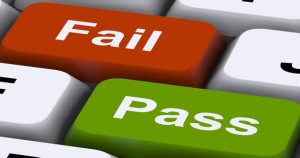 Although the means test has been part of the Bankruptcy Code since 2005, it remains one of most difficult aspects of the Code for debtors to understand.  In theory, the means test is supposed to identify high income debtors who should repay some of their debt in a Chapter 13 plan of reorganization over 3 to 5 years instead of the relatively quick discharge that comes in a Chapter 7 bankruptcy. However, reality is much more complicated than theory.
There are two stages to the means test.  Stage one compares your gross household income (before taxes) to the median income for households of the same size for where you live.  The term "median income" simply means that half of the households earn above that number half have earn below below it. If you are blow the median, you "pass" the means test and are probably eligible for Chapter 7 bankruptcy.  For California debts filing after November 1, 2015, the median income levels are as follows:  Household of 1 – $50,519; 2 – $66,458; 3 – $70,732; 4 – $81,740.  For larger households, add $8,100 for each member over 4.
If your total household income is above the median, then stage two is an analysis of your allowable deductions to determine how much disposable income you should have available to fund a Chapter 13 payment plan. Some of the deductions are easy to calculate and are based on actual expenses such as your home mortgage payment, taxes and health insurance. Other allowable deductions are based on averages used by the Internal Revenue Service and this includes expenses such as food, utility costs and vehicle operating expenses such as fuel and maintenance. A debtor's actual expenses often exceed the allowable expenses.  Gross monthly income minus allowable monthly expenses determines your disposable monthly income ("DMI")
If your DMI exceeds $10,000 or shows that you could pay at least 25% of your unsecured debt such as credit cards and medical bills, you "fail" the means test and might be required to file a Chapter 13 with a 5-year repayment plan to obtain debt relief in a bankruptcy.  Otherwise the debtors may file a Chapter 7.
Sometimes our clients have situations that do not fit neatly within the artificial formula and we are able to guide them through a Chapter 7 bankruptcy even with other attorneys have told them that a Chapter 13 payment plan was the only option.
A thorough means test review is part of our free consultation process.  We will treat you with compassion and respect.  Let's work together to find the best solution for you.